John DePetro Show > Weekdays 9am-Noon
If you need to reach John after the show, call his office at 401-433-4200 ext 288. During the show, call him at 401-438-9776
Attention All Media: Any use of sound must credit John DePetro & NewsTalk 630 WPRO & 99.7 FM.
A Sex and the City Star Dating...Aaron Sorkin?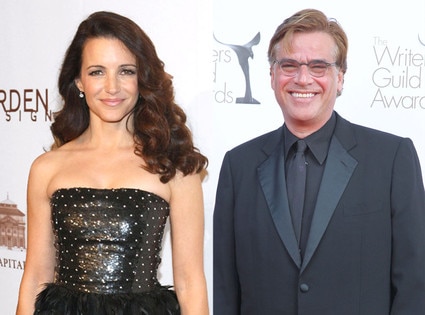 Charlotte York might have just joined a whole new, "Social Network." Multiple sources tell E! News that Aaron Sorkin is dating actress Kristin Davis for, "about six weeks." "They are really happy. They have actually known each other a while through mutual friends and would sometimes bump into one another at industry events, but it has only just turned into something more," says one source. "He is obviously really smart...and Kristin is very intelligent, too. They have a lot to talk about." The couple, who have both been open about past substance abuse struggles and their subsequent sobriety, have "been out quite a few times on both coasts," according to a source.
Sorkin, whose screenplay for The Social Network won an Oscar, has a 12-year-old daughter, Roxy, from a previous marriage. Davis, 47, adopted a baby girl, Gemma Rose, in 2011. The 50-year-old West Wing creator was married to Julia Bingham from 1996 to 2005. He's also been romantically linked to Kristin Chenoweth.Davis has never been married, and her rep declined to comment on her personal life. Besides the Sex and the City flicks, she recently starred in Journey 2: The Mysterious Island.
Bennett Raglin, Alexandra Wyman/WireImage.com

Add a Comment